Puppet Shows and Puppet Karaoke
We love to share our puppet shows, and love to travel! We come to your location with everything necessary for a wonderful puppet theater or puppet workshop experience. We specialize in original scripts, and a wide variety of puppetry styles to engage, educate and entertain our audiences.
We perform/teach workshops at • Schools (including after-school programs) • Day care/senior centers • Birthday parties • Art festivals • Museums • Kids' Camps • Libraries • Holiday parties • Fundraisers and Celebrations of all kinds!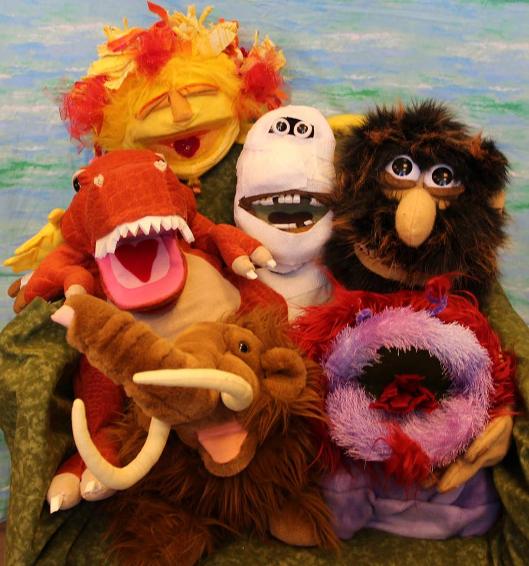 The Cast of "Old Time Rock and Roll."
Puppet Shows
Literature/Folklore Based
Jabuti—This little Amazonian turtle dreams of playing his flute for The King of Heaven. Vulture offers him a ride, but can Vulture be trusted? Find out in this fun, colorful show!
Zomo the Rabbit--Zomo wants to be wise, so the Sky God gives him three tasks that once completed will make him wise. Join us for this adventurous African tale, as Zomo learns the true meaning of wisdom.
Coyote Dances with Raven - Coyote thinks he can do anything, even fly! He needs a lesson in humility and gets one in this Native American Tale. This show promises to be a "howl!

The Witch Who Wasn't – Poor Isabel is a witch who can't "spell!" Her first "Spelling Bee" is just around the corner, and she just can't conjure up anything scary. Join Isabel as she solves her problem, and learns to just be herself. (by Jane Yolen)
Georgie, the Ghost—What good is a ghost with nothing to haunt? Georgie is happy with the Whitakers, until he has to find new digs. Join Georgie as he makes his way back home and discovers that everyone, including himself, has value. (by Robert Bright)
Peter Pan and the Haunted Lagoon--In this new adventure for Peter, he must protect the mermaid's treasure from Capt. Hook and the Pirates. Will Peter's wild idea work? Find out in this exciting puppet show.
The Legend of Sleepy Hollow--Enjoy this classic tale of Icabod Crane and The Headless Horseman presented by our amazing puppet cast, complete with glowing pumpkins!
Hearts and Stomachs--Cuy the Guinea Pig just wants to enjoy his grass in peace, but Tio Antonio want to make him lunch! Can Cuy trick Tio Antonio just one more time? Will both of them realize thinking with your heart is much more important than your stomach? Find out in this exciting tale from Argentina.
Herschel and the Hannukah Goblins--The nasty goblins in the old Synagogue won't let the villagers celebrate Hannukah! Can Herschel trick the Goblins into leaving the Menorah candles lit? Join us for this great story of bravery and brain power!
Just for fun (all ages; 15-20 minutes each)

So Ya Wanna Be a Pirate?-- Arrrr!!! Timmy wants to become a pirate...at least until lunchtime. Black Bob and Lola the Lobster are on hand to make his dream come true!!
Old Time Rock and Roll-What happens in the Exhibit of Ancient Life after hours? Find out as Ogg the Caveman and his friends rock the importance of learning about the past!
A Princess's Tale--Who needs to be rescued in this fairy tale--the princess or the dragon? Join the fun in this unusual story that teaches girls to be strong.
Mercury Theater with Mike and Alienne—Fly with this delightful intergalactic family as soar through space teaching Mom to read! This show stresses the importance of reading, and to read at your own pace.
Goldilocks and the Three Bears—Enjoy a twist on this timeless tale as Goldilocks gets arrested for breaking and entering! Is Goldie a criminal, or victim of circumstances? You decide as you watch this fun version of Miss Locks and her Bears.
Home is Where the Ice Is!—A Polar Bear falls asleep on an ice flow and wakes up in Los Angeles! Once he accepts help from the other animals he is home in no time! Join us for this fun tale of accepting help and making a difference.
Wot's Under the Bed--Wot is a monster who doesn't like scaring people. When he is given the assignment of living under Sammy's bed and scaring her, he has real reservations. But, he discovers that the Evil Dr. Rattus (a lab rat) is building a huge monster from all the garbage in Sammy's closet. Will Wot find his inner "monstrous?" Will Sammy and her friends Dust Bunny, Stray Sock help him destroy the garbage monster? Find out in this fun show.
It's Not if, but When--When little pig, Porcina hears the villagers say, "When pigs fly!" She thinks pigs CAN fly. She wants to fly over the village to cheer up the villagers, but doesn't have much success until she meets a young man, Leo (daVinci). He builds a flying machine for her and it works! Join her on this memorable flight the day pigs flew.
Is It Time, YETi?--Yaknut the Yeti just wants to be left alone. When Sarnai, a young Mongolian girl brings him a stranded baby Yeti, will he help find its mother? Join Snow Leopard, Camel, and Goat in this tale of love from the Himalyas.
Holiday (all ages*;15-20 minutes)
Date Night with the Steins - Frankenstein's Monster and his beautiful bride are the latest creations of Dr. Rattus, the Lab Rat. Join them for their premier as they sing and dance their way into fame!
A Grim Reality - The Grim Reaper has lost his glasses and can't read the obituaries! Join Elvin, the black cat, and LBB (Little Brown Bat) as they help Grim find his spectacles. There are two versions of this show, *G and PG13. Make sure you specify which one you want.
Perry Miscus Christmas - Two little mice want their own Christmas tree, but can't find one small enough for their mouse-house. With the forest animals helping, they get the perfect tree for their family. A fun story that highlights the importance of recycling and sharing.
A Christmas Carol...is all I really want - Mr. Walters loves the winter Holidays. All he really wants is for carolers to come and sing a song. He gets them, alright, but they aren't quite what he hoped for. Join us for this fun and silly tale, and sing along with the cast at the end!
The Aliens who Stole Christmas - Two aliens have landed on Earth to discover why Christmas makes people happy, and to steal some of that happiness to cheer their own glum planet. Join them as they discover that the real happiness comes from being together and sharing love.
Puppets talk; Bullys walk! (K-3 20 minutes)

The Three Billy Goats Gruff (and their little sister, who saves the day) - Trip-trap, trip-trap! You know the story, but can you tell who the bullys are? Find out in this fun interactive show, as students help Fanny Gruff find a win-win solution for her brothers and Mr. Troll. A post-performance group discussion with the puppets is available. Theme(s): being strong, be yourself, learning to rewind a situation for a better outcome, dealing with bullying effectively, and making friends.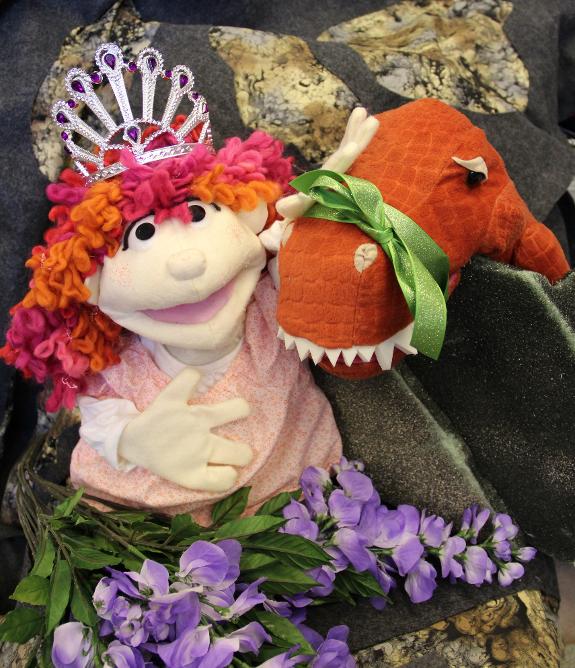 Princess Penelope Paddywack and George, the Dragon, from "A Princess's Tale."
PRICE LIST
Per show $150-$225
20-minute show + backstage tour and puppetry overview $175
30-minute school assembly/library show + discussion
$0 (libraries in Salt Lake County)-$180*
Live (via Zoom) "Happy Birthday" song by a puppet (all ages)
$35
Puppet Karaoke: $125
We bring everything needed to have a two-hour Karaoke party...with puppets! You don't even have to sing, just pick your favorite songs and the puppets will sing them behind a stage. This fun activity is for all ages, rated G to PG; you decide. Don't think your friends/co-workers/family are game? Just get them up there once, and they'll be hooked! The fun is infectious.
*Our rates are negotiable! Call us to discuss what works with your budget!
We offer great discounts for libraries, schools and non-profit organizations.
Contact us today!
(801) 554-4257
saltcitypuppets@gmail.com